Hand in Hand: Cooperation with Athletes, Coaches and Clubs
Competitive sports teams have two departments, one for training and the other for medical issues. This structure leaves an enormous gap, according to Dr. Kurt Mosetter. Here, he explains how his sports philosophy seeks to fill this gap:
"The classical method is to send somebody to the doctor after he has been injured and to train him when he is healthy. In order to close the gap between these functions and achieve greater sports success, we analyze vulnerable points by means of Myoreflex Therapy. In this way, for example, we can determine in advance what parts of an athlete's body are serving as brakes. Sooner or later, these brakes are very likely to lead to an injury. To make sure that nothing of the sort happens, the medical department should be eliminating these brakes on a preventive basis.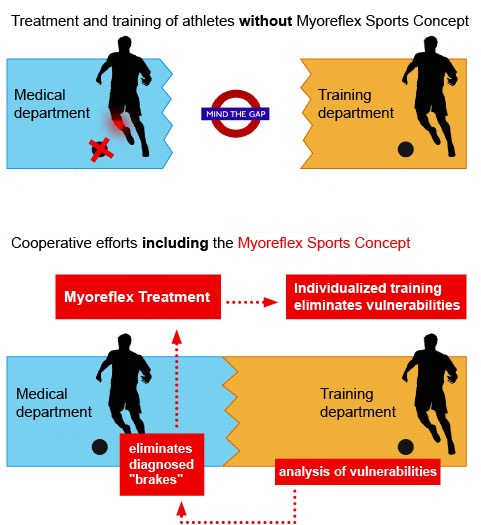 The Myoreflex Therapy treatment that is needed should be carried over directly to the individual training process – and what needs training is definitely what the athlete is not able to do, and not what the athlete is already doing. It is important that the departments work hand in hand, and that physicians take a more pro-active rather than a reactive role.
The synergy between medical care, training management, athletic training and rehabilitation is extraordinarily effective. Today, we are consulted by players of various professional soccer clubs in Europe, National League teams, professional athletes in other sports, as well as numerous amateur, hobby and leisure athletes."